Amazon sent me an email one day that said I had a $3 Kindle credit and wanted me to shop.
Amazon + Free money to shop = Love!
So I perused the books offered and settled on this YA choice – "The Odds of Loving Grover Cleveland" by Rebekah Crane.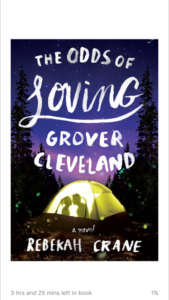 While I did not care for the bad language in this book, I fell in love with each character no matter how "bad" they appeared in the book. And when this book took an unexpected twist that I didn't see coming, I cried when I read the resolution. This book had me for cheering for an unexpected character at the end. This book is so worth reading!
"Calming the Storm" by Melanie Snitker was free on Kindle so of course I downloaded it. While this was a sweet story with a happy ending, it only had a couple of moments that felt emotional. And while I respected the male character's distance from the female character, there seemed to be a lack of emotion throughout. But since this was the author's debut novel, overall she has told a great story.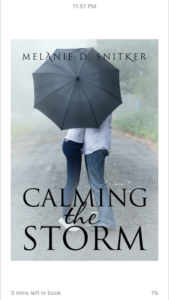 Next up was "A Season to Love" by Nicole Deese.
I had the privilege of meeting Nicole at the ACFW conference and I didn't take a pic with her. Sorry Nicole! I did discover that she has her nose pierced – super cute – something you probably can't tell if you follow her on Instagram.
Clean, sweet, and a happy ending! Nicole Deese does it again with the story of the adventure seeker and the anxiety driven controller (who I understand very well!). The only thing missing from this book was the guy's POV. Just my preference! And she won a Carol award for this book!
Other reads included:
"Worth the Time" by Laura Jackson
I loved that this story shared the Gospel and the reader got to see the changes and struggles in the main character. The writing style was choppy and "telling vs showing." The ending seemed abrupt. Overall, a sweet, clean story.
"Lovestruck in London" by Rachel Schurig
This was my third time to read this book. I'm a big fan of Rachel because she writes celebrity romances. And this book had me at London!
It's a Cinderella story set in London! Thomas will win your heart as you cheer for Lizzie. While I loved this story, the writing needed some editing. But overall, a great story!
And last, but not least, I adored "The Royal Treatment" by Melanie Summers.
This book was hilarious! I really did laugh out loud at some of the scenes. Here is what I wrote on
Goodreads:
I'm a sucker for any type of royal romance book and the fact that this story was funny was a bonus. There were so many funny moments that made me laugh out loud. I did not love the excessive F bombs and between the sheets scenes. But…as a rookie writer (member of ACFW) this book was fabulously plotted and kept me guessing until the end. Loved the dual 1st person POV. Teach me how to write MJ!
And that's what all I read in September!