Hey everyone!
It's almost December and I just realized I didn't post what I read in October. If you really want to stay up to date with what I'm doing you can find me on Instagram or Facebook. Or you can sign up for my newsletter here.
First up, for October is Dear Mr. Knightley. This book was told from one point of view in the form of letters to Mr. Knightley. And this was an unexpected page turner. The story, the writing and the cover were beautiful! I would definitely read this again. I don't like to give away plot lines, but this story contained mistaken identity, a girl trying to make it on her own, and true love. A winner overall!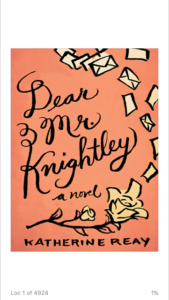 Next up is Second Chances for Trampled Hearts by Shoshanna Gabriel.
I really struggled with this book. While I commend Shoshanna's step away from erotic writing and into the Christian market, I could tell that this book had been rewritten from its original plot. The characters touched alot, as in they just seemed to arrive on scene, with an unspoken yes that they would just be constantly holding each other or whatever. There was no gradual build to this so it seemed unrealistic. Also, I didn't care for the male protagonist's dialect. I'd much rather imagine how he sounds in my head than have it written out for me. A lot of the plot points were unrealistic to me which is something I've struggled with in my own writing. As for the cover, I wasn't really a fan. The girl looks 18 and didn't seem to fit the description of the main character portrayed in the book.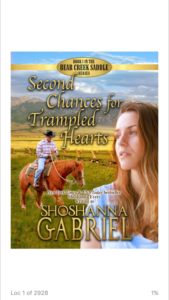 I first saw the video promo for "Just Look Up" by Courtney Walsh on Facebook I believe so the video had me hooked. But this wasn't what I thought it would be. I struggled with the female protagonist's personality. She was a go-getter in terms of her career, but shy when it came to relationships. This didn't seem to jive for me. I really wanted her to come out from behind her wall in terms of conversation outside of the office. This book did end well though but I did struggle through a lot of it. There was just no emotional driver to push me through it. Cover = beautiful!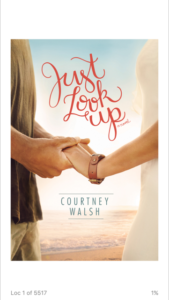 And finally, "Love at First Laugh" by a myriad of authors. I picked this up because I had heard many people complement Pepper Basham. She did deliver a cute, steamy story. I would definitely read another story of hers that didn't relate to Jane Austen because who doesn't love Jane Austen? The other story that stood out for this was the one written by Krista Phillips. She wrote her characters as the most realistic and believable. Great job Krista! Overall, these novellas were only $.99 when I purchased them so it was a great deal. I didn't read the story about fairies because…fairies.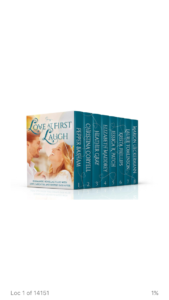 Happy November reading!