I had the opportunity to attend the 2017 ACFW conference held at The Gaylord Texan in Grapevine, TX.
This was a financial sacrifice to attend. You can read more about what I gave up to make this a possibility over here.
Day 1 – Thursday
This is me at the Early Bird class with James Scott Bell. My pic of him didn't want to upload so just pretend you see one.
This is also what I looked like before four days of mental overload set in. The walls were yellow, thus, I look yellow.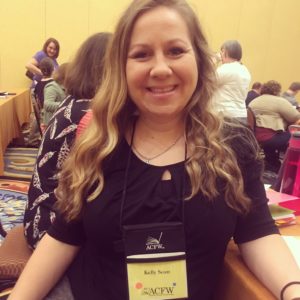 Everyone wore a name badge like this. Each ribbon designated something about you. So I went around for four days staring at everyone's chest either trying to read a name or see what ribbons they had. For example, if you had finaled in a contest you got a Finalist ribbon. Those were neat to see. And…so exciting my ACFW chapter got Chapter of the Year!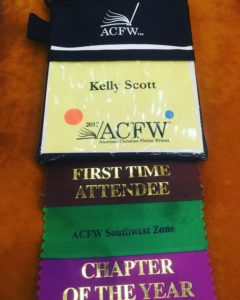 I sat next to the lovely Sherrinda who was a Genesis contest finalist for her medieval romance. Can't wait to read it!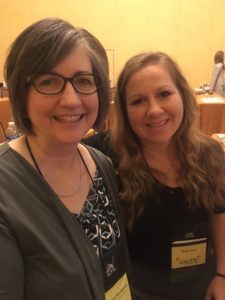 After our class we then jumped over to a newbie's introduction to the conference class. Then we entered one of the ballrooms for the formal intro to the conference. So many writers! And so many people to meet and interact with! Even though I'm technically an introvert but socially I'm extroverted it was still overwhelming. And, of course, because the conference is mostly females with only a handful of guys I felt like I was in a sorority. Something I avoided in college lol!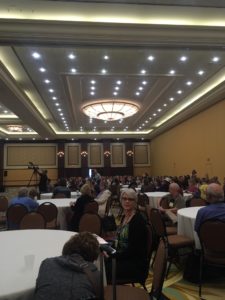 After dinner I attended a session with Bethany House. I had wanted to pitch to them but their schedule was full but it was interesting to hear how their process worked when they were going through proposals. Just because you get a yes at the door doesn't mean you'll get a yes at their committee meeting. It has to be a collective yes when considering accepting an author's work. So many factors go into it like money, marketability, does it fit, has someone else already done it, etc.
Day 2 – Friday
Day two included learning classes such as Secrets to Great Writing with Carrie Stuart Parks. She was funny! She talked about reader abuse and would slap a mannequin head with a red glove whenever she gave examples of reader abuse. For example, dumping all of your backstory in the first chapter is reader abuse. Slap, slap, slap!
The only downfall to this class was that I had to be in and out for my pitch appointments so it was sometimes hard to focus because the butterflies were stirring up a tornado!
Speaking of pitches, I had the opportunity on Friday to pitch to two agents. Here's a summary of how they went:
Secret Agent #1 – (me trying to make a joke about the weather) Oh, haha, now I get it. (me giving my memorized pitch) Wait, what? How does that work? (I explain) So your character has never been a believer? (nope) Oh, well, keep in touch.
No business card or email offered so that was a "No".
Secret Agent #2 – (I was already comfortable talking to this agent because we had met the day before. Me giving non-memorized pitch) How does that work? Hmm….I would have to see how you did that. But I love the marketing possibility of that. **She requested a full manuscript without reading my sample chapter! (She wrote back after conference and said my writing wasn't strong enough and she didn't think my plot points would work. 🙁 Sigh. This has been really hard to recover from. I know it's not personal, it's business. And I do agree with her.)
I ran into this awesome lady, Conni Cossette, after a class. I had met her back in May at a signing for Becky Wade. I honestly didn't know she existed until I met her. It was neat to run into her again and say Hi. And, of course, snag a picture. You have to read her debut novel!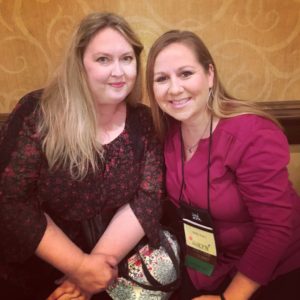 Right before dinner I found my favorite author Tammy Gray. We got a few minutes to chat and snap a picture before I had to leave. Her debut novel was beautiful and exactly the type of book I want to write.
Friday night dinner was open so I went out with some of my local chapter friends. I met this lovely lady, Deborah Clack, during conference and I can tell you that even though she doesn't have a published book yet I'm already a fan just because she was a hoot to hang out with!
Day 3 – Saturday 
The day before I grabbed a last minute Mentor appointment with Gina Welborn. She greeted me with streaks of blue hair and the words, "I've never done this before." At least I think she said that. Some things from conference are a blur. We discussed my one sheet, how long my manuscript was (too long for standard books) and the name of a publisher I could send my manuscript to. She also requested a copy of my proposal so she could assist me in getting it ready. Thank you Gina!
Immediately after that I pitched my book idea to a publishing house in the UK. She was the cutest and sweetest girl ever and looked like she belonged on the cover of a Bethany House book. I had already been warned about what they were looking for so I knew she would say No. Here's why:
UK publisher: How much God content do you have in your book?
Me: (Explaining)
UK cute girl: Oh, that's too much.
Aren't we at a Christian writer's conference?
I'll probably post more ideas about this on a different blog post.
The rest of the day was spent in more classes. I attended one by an agent Jessica Kirkland where she discussed Indie, Traditional, and Hybrid publishing. It was so interesting to hear some of what she does and what advantages you have choosing the different paths.
Day 4 – Sunday
I opted to attend an extra class taught by Margie Lawson. I had heard good things about her and wanted to see for myself. She did not disappoint. She shows you how to really dive into a sentence and make it speak using different techniques.
After her class was over I drove home and took a 3 hour nap!
I'm so glad I got to attend the conference. I still need to go over my notes and incorporate that into my writing. It was awesome to meet so many people and hear about what they write and what stage of writing they are in. I also joined up with some other newbies in a Facebook group so that we can encourage and learn from each other as we move through this process. Exactly what I needed!
And we can't end this post without talking about the incredible desserts The Gaylord Texan whipped up for us. This one was by far one of the best desserts I've ever eaten!
Stay tuned for more thoughts regarding what I learned at ACFW.